An essential component to the success of my journey depends on being able to keep my belongings safe and secure.  I looked at several options and determined that a Tonneau cover would make the most sense.  I did a ton of research on both hard and soft covers and determined that a hard shell cover was the only way to go.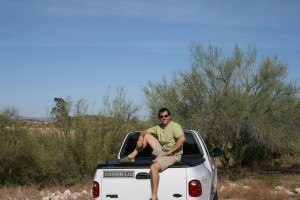 I then embarked on the somewhat arduous task of researching the various manufacturers.  You cannot believe how many options are out there, and depending on your needs, there is probably one that will meet yours perfectly.
For my needs, I wanted something strong and rugged, and something easy to install and remove.  When I ran across the Armor Lid ABS Tonneau Cover, I was sold.  I really liked that it's not painted like the fiberglass covers, because I imagine I will be using it to store stuff on top while camping ,as well as sleeping on it every so often when I'm too lazy to set up a tent or unable to find lodging.
Installing the Armor Lid could not have been easier, it really only required a socket and ratchet as far as tools.  The instructions suggested using two people to install, but I was able to do it myself pretty easily.
I filmed some video segments to give you an idea of the install process as well as what it looks like fully assembled.  Armor Lid has dealers across the country, but you can check out their site directly for more info: www.ArmorLid.com
Tags: Armor Lid, Armor Lid Reviews, Tonneau Covers