Santa Fe, New Mexico is well known for its rich history, diverse culture, world-class art, chili-inspired culinary dishes, and, distinct Southwestern style.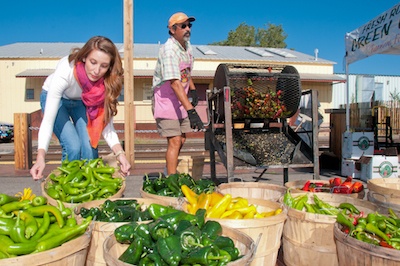 One stop worth making on your next trip to Santa Fe has to be the Farmer's Market, located in the relatively new, Railyard Park.
The market began with just a handful of farmers in the late 60s and is now New Mexico's largest farmers' market with over 150 active vendors, featuring hundreds of different agricultural products. The Santa Fe Farmers Market is truly a local market…they take great effort to assure that all the products sold by vendors are always locally grown by the people selling them.
When I was at the market on a Saturday in late spring, the entire Railyard Park was bustling with people, street performers and vendors selling an array of colorful produce and handmade goods (see video). There are also many nearby galleries, shops and restaurants for visitors to enjoy. Located right across the street is the Santa Fe Sage Inn, the place I stayed. This modest hotel is very affordable, walking distance to just about all the Santa Fe attractions, and, offers a number of free amenities.
If you've ever been to the Santa Fe Farmers Market, please leave a comment below and share your experience.
Santa Fe Farmers Market Information:
Hours:
Saturdays open year-round 8am-1pm
Tuesday Market May through November
Railyard Artisan Market at the Market Pavilion; Sundays: 10am-4pm
Farmers' Market Shops; Saturdays: 8am-3pm – Sundays: 10am-4pm
Website:
SantaFeFarmersMarket.com
Address:
Opens in Google Maps
740 Cerrillos Road
Santa Fe, NM 87505