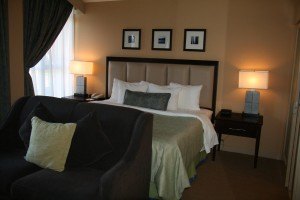 Located right in the heart of Whistler Village, the Crystal Lodge is within minutes' walk  to just about everything you could imagine…restaurants, shops, entertainment, and of course, the slopes.  The hotel has a lot to offer its guests…from its modern design, spacious and luxurious rooms, array of amenities, to its very friendly staff.  For a hotel of this quality level, the rates are very fair—although the modest rates may be subsidized by the high parking fees…I think it was $22 or $24 per day.
Our room at the Crystal Lodge was very clean and inviting and came with a king sized bed, Jacuzzi tub and a balcony high above the action below.  We also had a small kitchenette, which allowed us to easily pop back into our room during the day to grab a refreshment…and, the convenience of the hotel location allowed us to stop in  to pick  up anything we may have forgotten.


Click on the following links to see more pictures and videos of the area, as well as restaurant suggestions, etc….Whistler Village and the Peak 2 Peak Gondola ride.
If you've stayed at the Crystal Lodge Hotel before, please leave a comment below and let my readers and me know what you thought.
Crystal Lodge Hotel Information:
800-667-3363
e-mail:  info@crystal-lodge.com
web: Crystal-Lodge.com
4154 Village Green
Whistler, BC V0N 1B4 – Canada
Check out this hotel supplied video for a more in-depth perspective: