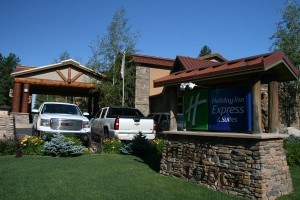 I recently visited McCall, Idaho for the first time and certainly hope it will not be my last…what a great little town.  The area is so scenic—from Payette Lake, rafting rivers to nearby ski slopes…there is a lot to see and do, not to mention some great restaurants and shopping.
I was in McCall for a week-long rafting trip down the Salmon River with the folks from O.A.R.S. and decided to stay at The Hunt Lodge for pre and post trip accommodations.  Staying at the Lodge was quite convenient since it's also the pre-trip meeting place for all O.A.R.S excursions down the Salmon.  The Lodge is located right in town and is in walking distance to many amenities.
The Hunt Lodge is actually a Holiday Inn Express property, which I was surprised by since it has such distinct character—if it weren't for the sign out front, you'd probably never know.  As you approach the Lodge for the first time, you'll notice the grand post beam construction and wood-carved sculptures. The lobby has an array of mounted taxidermy, which really gives it that "lodge-like" feeling.


There are four accommodation levels to choose from…a standard queen or king room, a double queen suite and the king suite, which is the room I stayed in.  The King suite is quite spacious with its own separate lounge area, equipped with wet bar, mini-fridge, microwave and T.V.  The King Suite also has a huge Jacuzzi tub, and, all rooms are accented in bold beautiful granite with many modern fixtures.
Lodge/Hotel amenities include:
A luxurious heated indoor pool and spa
Fitness Center
Business center
Conference Center
Washer/Dryer
And, complimentary buffet breakfast
If you're looking for a great place to stay while in McCall, I think you'll be quite satisfied with The Hunt Lodge.  The staff is very helpful and friendly, especially Jonathon, the General Manager.
Click the following link to see more of my pictures of The Hunt Lodge in McCall, Idaho.  If you've stayed at The Hunt Lodge before, please leave a comment for my readers and me.  If you've found this post with video to be helpful, please hit the "Like" button below.
Contact Info:
The Hunt Lodge – Holiday Inn Express & Suites
210 North 3rd Street
McCall, ID 83638
Phone: 208-634-4700
Email: Info@TheHuntLodge.com
Web: http://www.TheHuntLodge.com