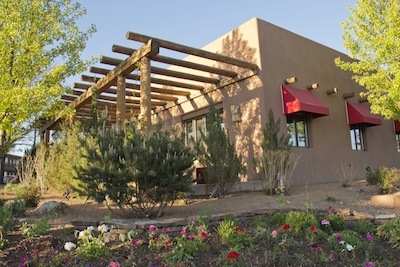 If you're looking for one of the most affordable hotels within walking distance to all the main Santa Fe sights and attractions, look no farther than the Santa Fe Sage Inn.  The Santa Fe Sage Inn is located directly across the street to the newly developed Railyard Park, which has an array of shops, restaurants, art galleries and events…everything is so close that you'll never have to get in your car to explore. At the Sage Inn, they like to say, "we connect you to the heart of Santa Fe." As you watch the video below you'll see just how true their slogan is.
The Santa Fe Sage Inn has 155 rooms, with two accommodation levels to choose from, standard and superior—each has two configurations available, king, or double queen. There isn't a lot of difference between the standard and superior, but the superior rooms do have a mini fridge and full length mirror, along with some decorative trim that sets them apart.


There are a number of free amenities included in your room stay…for starters, there is a free shuttle to downtown (six blocks away) that runs each hour on the hour.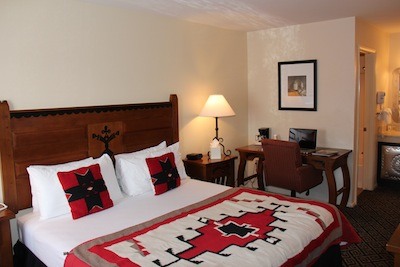 Additionally, there is a 24-hour fitness room, laundry facility, pool, free wi-fi and a free "sunshine" breakfast each morning. I was particularly impressed with how friendly and accommodating the staff was…they really go out of their way to make sure you feel comfortable and make sure you have everything you need for an enjoyable stay. They even organize a "City Different" walking tour, which will educate you on the history and culture of Santa Fe. The tours run three days a week from May to October and cost just $12.  Click here for more information.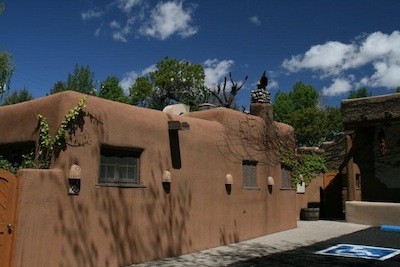 Santa Fe is one of my favorite places to visit, during my recent stay I checked out some new places, as well as some of the classics.  Santa Fe was the winner of the 2012 Rand McNally and USA Today's "Best of the Road" for best food in small town America—one of the reasons was surely its unique identity and distinct culinary flavors. One place you can learn about the "New Mexico" style of cooking is at the Santa Fe School of Cooking…I participated in a taco cooking demonstration one day. We learned the history behind the taco, some of the various ingredients that can be used…then, we got our hands into the process of preparing a feast for all to enjoy.
While in Santa Fe you may want to look the part, so two places to check out are, Kowboyz for vintage western wear, and Sissel's for authentic Indian jewelry and accessories. If a game of 9-ball, live music and libations are for you, head over to Cowgirl.  Speaking of places to eat, a nearby Santa Fe staple is Tomasitas…a family-run Mexican food restaurant that features a world-class mariachi band on Tuesday nights—this all-female mariachi performed at the 2012 Olympics in London.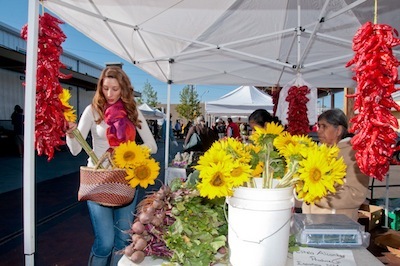 On Tuesday and Saturdays, directly across the street from the Santa Fe Sage Inn, the Railyard has a farmer's market and art show.  You'll often see some amazing musicians and performers in the area entertaining passersby. For the best selection of locally produced goods, get there early as many of the vendors sell out.  After perusing the market, you may want to check out some of the nearby world-class art studios and galleries.
Next time you're in New Mexico and you want to stay in the heart of Santa Fe, consider the Santa Fe Sage Inn for your lodging needs. If you've ever stayed at the Sage Inn, please leave a comment below and share your experience with my readers and me.
Santa Fe Sage Inn information:
Address: 725 Cerrillos Road Santa Fe, NM 87505
Phone: 505.982.5952
Email: SageInn@SantafeSageInn.com
Web: SantaFeSageInn.com
Rates:
Nov 1st – April 30th $59 to $89
May 1st – Oct 31st $89 to $149
Activity: For something fun to do, check out the "City Different" walking tour that departs from the Santa Fe Sage Inn.