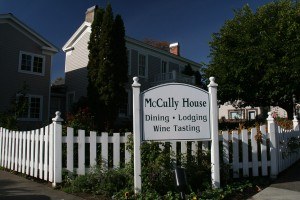 Enthusiasm washed over me when I first entered the small town of Jacksonville, Oregon.  Jacksonville is the type of small town I love to discover and explore…it's quaint and charming with quality restaurants, parks, shopping and of course lodging.  The area is also the newest wine appellation, with a string of boutique wineries popping up along the Applegate River corridor.
The Country House Inns have several properties in and around the Jacksonville area…I ended up staying at one of their wine cottages, which is a small cluster of structures, each with cozy, distinctive and luxurious accommodations. My cottage had a king sized bed with high tread count Egyptian cotton sheets, a large flat screen TV, mini fridge with coffee maker, a modern bathroom with a large open-air shower.  My favorite part was the French doors opening up to a quaint little patio where I would enjoy a morning cup of coffee and check my email.


Downtown Jacksonville is pretty condensed and you can walk to just about anywhere you like…a park, a coffee shop or restaurant, to a wine tasting bar representing one of the local wineries.  Country House Inns Jacksonville are not set up as a typical B&B offering breakfast, but what they do offer is a $10 certificate per person to a number of great local restaurants.  Each morning I tried a different establishment, from the casual Pony Espresso, to the fine dining of the Jacksonville Inn.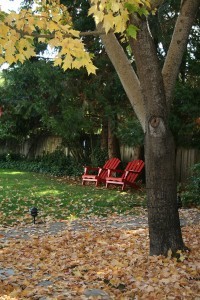 A mere stone's throw from the Wine Cottages is the McCully House, another Country House Inns' property. The McCully House has been beautifully restored and maintained…and, is actually one of the oldest buildings in the state being used as an Inn.  The McCully House stands proudly on the corner as you enter downtown—it has a white picket fence that surrounds the property and is an iconic symbol of 19th century Jacksonville.
There are five rooms available in the McCully House, each with a different feel, from the two rooms upstairs, to the Library suite, to my favorite…the Kaizen suite.  The Kaizen is impeccably decorated with a contemporary Asian flair…the bathroom is like an oasis with French doors opening up to an inviting patio. Déjà Vu is a fine-dining bistro and wine bar adjacent to the McCully House…which looked quite good, however my visit was at the beginning of the week when the bistro is closed during the off-season.
I believe Country House Inns have five different properties in the Jacksonville area, but the only other one I had the privilege of seeing was the Wine Country Inn, which is set up a bit more like a traditional hotel, but with an emphasis on quality.   There are 32 rooms at the Country Wine Inn, with several Jacuzzi suites.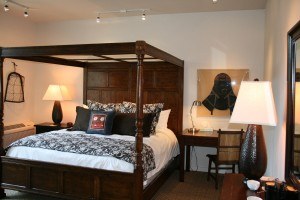 No matter your lodging needs in Jacksonville, Oregon, the Country House Inns can certainly accommodate.   There are so many cool and interesting things to do in and around Jacksonville; it makes for the perfect hub. Jacksonville is really the quintessential idyllic small town…I thoroughly enjoyed my time there and have no doubt you will too.
If you've been to Jacksonville, OR before, or stayed at one of the Country House Inn properties, please leave a comment below and let my readers and me know what you thought. Click the following link to see more of my pictures of the Country House Inns Jacksonville.  If you enjoyed this post and video, please click the "like" button below and share with your friends and family.
Country House Inns Contact Info:
Address: 830 N. 5th St., Jacksonville, Oregon 97530
Map: Click here
Phone: 541-899-2050 OR 800-367-1942