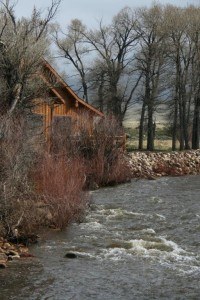 Over the decades our society has moved farther and farther away from our roots with the land, both literally and figuratively.  The majority of our population is what you would call "city dwellers, "or, "city slickers" as our friends on the farms would say.  It's nice to know that there are still places we can go to escape the preverbal "hustle and bustle" of city life.  Vee Bar Guest Ranch, just outside of Laramie, Wyoming is such a place.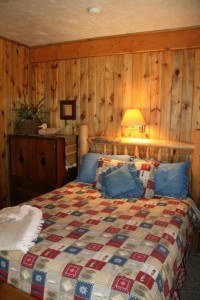 I made my way to the Vee Bar from the south, coming from my previous destination in Colorado.  As I reached Laramie, I headed west toward the ranch and was struck by the vast openness of rolling grasslands.  As far as the eye could see it was nothing but near barren land, and yet, there was something serene about the expansiveness.  As I drove, I began to question the validity of a guest ranch in these parts, but as I approached the Vee Bar, my trepidation subsided.  The Vee Bar Ranch is situated right next to the Little Laramie River with an abundance of trees, a nearby pond and a variety of wildlife—it really is a lovely location.
There are a number of accommodation choices at the ranch, from individual cabins, duplex suites, to the rooms in the lodge itself—each is distinctly decorated in rustic western style.  All the structures on the ranch take advantage of the views and soothing sounds of the river that runs through the property. The fresh mountain air and the magical hum of the river lulled me to a peaceful nights rest each evening.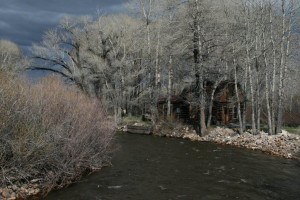 There are no TV's, radios or cell coverage, which may be music to some, but to others it may be a bit of shock to the system.   Most of us are so used to noise in our lives that when it's quiet, we're not quite sure what to do with it.  Personally, I have no troubles handling this…I enjoy the serenity that comes from being in the middle of land verses a sea of buildings.  I imagine this type of environment would do wonders for the family unit—bringing them closer together since they'd be obliged to communicate and entertain one another during their stay.
The maternal side of my family are part of the Mennonite clan…as a child, I recall how difficult the first couple days would be when visiting the grandparents or other relatives on the farm.  After the distress of not having a TV wore off, I would find all kinds of fun and entertaining things to do…like making little boats and floating them down a stream, or collecting the eggs from the hen house.  Today, I'm eternally grateful for my childhood experiences as they have shaped me into a well-versed individual.  Those times on the farm as a kid forced me to find creative ways of entertaining myself.  They stoked the passion I have for exploration and adventure—and, fostered a strong work ethic.  I think spending a week or two with the family at a guest ranch like Vee Bar could have similar affects.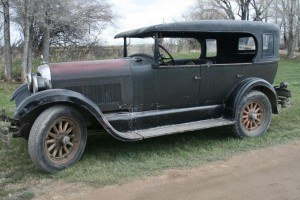 During my stay, the Vee Bar hosted a field trip for some local school children and one of the teachers brought his 1920s Packard to give the kids rides in…since some still consider me to be a kid, I was also allowed to go for a ride too.  During the drive through the ranch we discovered a bald eagle's nest, along with the mother and father flying around keeping watch.  We also spotted some deer and antelope prancing around.
I also enjoyed an afternoon horseback ride with a couple of the wranglers, Tommy and Dan.  Tommy is ol' timer, a cowboy through-and-through with an abundance of knowledge and a passion for everything western.  Dan is a relative newbie and seemed eager to learn all he could from Tommy.  It was endearing to see how Tommy had taken Dan under his wing and I think Dan was grateful for the opportunity to learn from such a veteran cowboy. By the way, Dan is quite the singer/songwriter and musician, I filmed him performing at the John Wayne Saloon.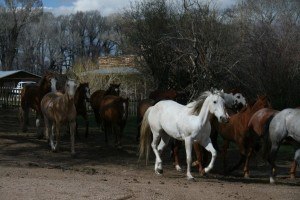 The guys took me down one of the many trails that run through the property where we got a chance to cross the river a few times…which was a blast. I had never taken a horse through such deep and swift water before, it was very exciting.  During our ride, we came upon the bald eagles that I saw the day before, but this time we were able to get so incredibly close…Tommy was saying that the eagles don't get spooked when you're on a horse for some reason.  So, we just sat there for a spell, in silence and in awe of the beauty these birds possess—while being inspired for what they stand for as our Nations' symbol of freedom.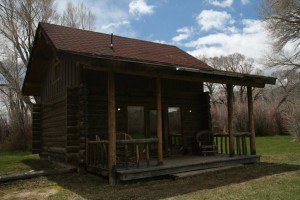 The Vee Bar Ranch is nestled in the Centennial Valley, below the Medicine Bow National Forest, the Ranch is family owned and operated—by the end of my stay, I almost felt like one of the family. Kari, Dean, the wranglers, to the rest of the crew were very friendly and hospitable, making sure I felt at home during my visit.  The Ranch was hosting a conference during my stay, so the crew invited me to dine with them, which was a casual family-like affair.  Each meal was full of reminiscing, joke-telling and an overall jovial time.  I particularly enjoyed listening to Dean tell his stories…he's a master at painting a picture.
One evening I moseyed  over to the John Wayne Saloon to get wi-fi access and found the place buzzing with excitement as several guests buddied up to the bar while one of the wranglers (Dan) proceeded to strum his guitar with some of his original songs.  This saloon is a bit different than most you'll come across, it's serve-yourself and based on the honor system.  There's a sheet of paper with all the guest's names on it… and all you do is indicate what you had to drink and they add it to your tab when you check-out.  Oh, something else you'll find unique…there are no room keys…everything is left unlocked.  This is very evocative of the rural lifestyle where everyone knows and trusts one another—while it might feel foreign, it's actually quite refreshing.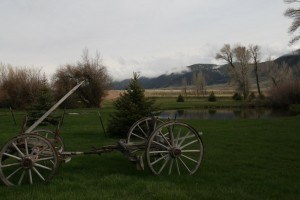 The Vee Bar Guest Ranch can play host in a variety of ways…as a typical B&B, to a structured activity-filled week of fly-fishing, horseback riding, trap shooting to camping out under the stars.  The ranch is perfect for family reunions, corporate retreats or conferences to family getaways. There is something truly unique about the "cowboy" lifestyle that's very enrapturing…it's honest, pure and wholesome.
Click the following link if you'd like to see more of my pictures from the Vee Bar Guest Ranch.  If you've been to Vee Bar, please let my readers and me know what you thought by posting a comment below.  Visit VeeBar.com for more information.
If you enjoyed reading this post and watching the video, please share it with your friends and family by clicking the "like" button below. Click the following link for more B&B's in Wyoming.