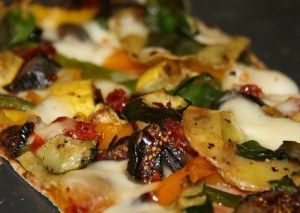 I've had the opportunity to try pizza from around the world, but when I can't get a pie from one of the best pizzerias, I like to make them at home.  Making pizza at home can be easy, fun, healthful, and best of all…tasty.  It all starts with a trip to my favorite grocery store, Trader Joe's, where you can find most of the ingredients you'll need.
When making pizza, typically the most difficult part is the dough/crust.  Trader Joe's has a product called, "Lavash Bread," which is quite thin—once baked it becomes cracker-like, providing a wonderful base for the toppings. Lavash makes a great pizza crust for those who want to prepare a quick and healthy pizza at home.
You can use a plethora of ingredients to make a pizza, I personally enjoy roasted vegetables.  Have fun experimenting by using various items that you have available and/or that are in season.  Click the following link for a list of pizza toppings to get your ideas flowing.
Watch my, "How to make Pizza" video, then read the details below.
Making pizza starts here:
Cut/prepare your vegetables and/or other ingredients you plan to use.
Bake Lavash in pre-heated 350 degree oven for 2-3 minutes directly on the rack (you want it to be just slightly crisp/rigid).
Place baked Lavaish on a cooking sheet to keep the ingredients contain during the assembling process…and, to initially heat the pizza.
Spread canned Italian style tomato paste (or use pesto/other favorite sauce) atop the Lavash.
Place freshly graded or thinly sliced parmesan cheese as your first layer (this will create a buffer so moisture from other ingredients don't make your Lavash crust soggy).
Sprinkle other ingredients of choice…e.g. roasted peppers, asparagus, sun-dried tomatoes, roasted chicken (the Blazing Buffalo Chicken from Boar's Head makes a wonderful and easy choice), corn, figs…the list is endless.  Click here for more ideas.
Top your ingredients with

fresh

mozzarella.  Trader Joe's sells in small or large balls which are packaged in saltwater (make sure to drain thoroughly). Cut the cheese into thin slices and place liberally.
Put pizza and cooking sheet into a 350-400 degree oven for 5 minutes to get the cheese melting.
Then place the pizza itself directly onto the oven rake to make/keep the Lavash crisp for another 5 minutes or so (keep your eye on the pizza to make sure it does not burn).  Using a pizza stone is another option.
Remove pizza and let it rest for several minutes before slicing.  Enjoy with your favorite beer or wine.
Please leave a comment below with additional tips, suggestions and favorite topping combinations.  If you found this post and video to be helpful, please share it by clicking the "like" button.