There are nine categories that make-up the overall Milepost Marker number.  Each category is rated from 1-50, with 50 miles being the best.  In other words, the farther I'm willing to drive, the better the review.  Each of the nine categories are then averaged for the overall number.  This gives the reader an opportunity to see how each category ranks that's important to them.  In other words, there might be a couple categories where the lodging establishment fell short, but the reader may or may not care about those items, so they are able to make a more informed decision.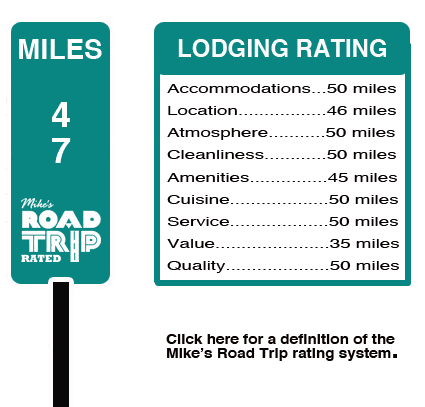 Here's what's included (what I look at) in each category:
Accommodations – Bed, linens, furniture, privacy and comfort.
Location – Scenic, obtrusive, convenient, etc.
Atmosphere – Inviting, welcoming,
Cleanliness – Flooring, dust, bathroom, etc.
Amenities – Snacks, accoutrements, games, movies, library, bathroom supplies, etc.
Cuisine – Quality, healthfulness and presentation.
Service – Innkeeper suggestions, availability of staff, housekeeping, etc.
Value – Price in relation to quality of accommodations, location, amenities, cuisine and service.
Quality – Construction materials, craftsmanship, furniture and landscaping.