I was first introduced to the Santa Fe School of Cooking in 2012, as it was a stop on my culinary tour of Santa Fe, New Mexico for the USA Today and Rand McNally's "Best of the Road" rally. (By the way, Santa Fe ended up winning the "Best Food" category in small town America) A year later, I was excited to have an opportunity to go through a complete class, and, enjoy a wonderful meal indicative of the region.
The Santa Fe School of Cooking (SFSC) is a state of the art facility where classes are taught by some of the best local chefs.  The demonstrations are not only entertaining, but educational, informative…and, the meals you prepare, are amazingly delicious.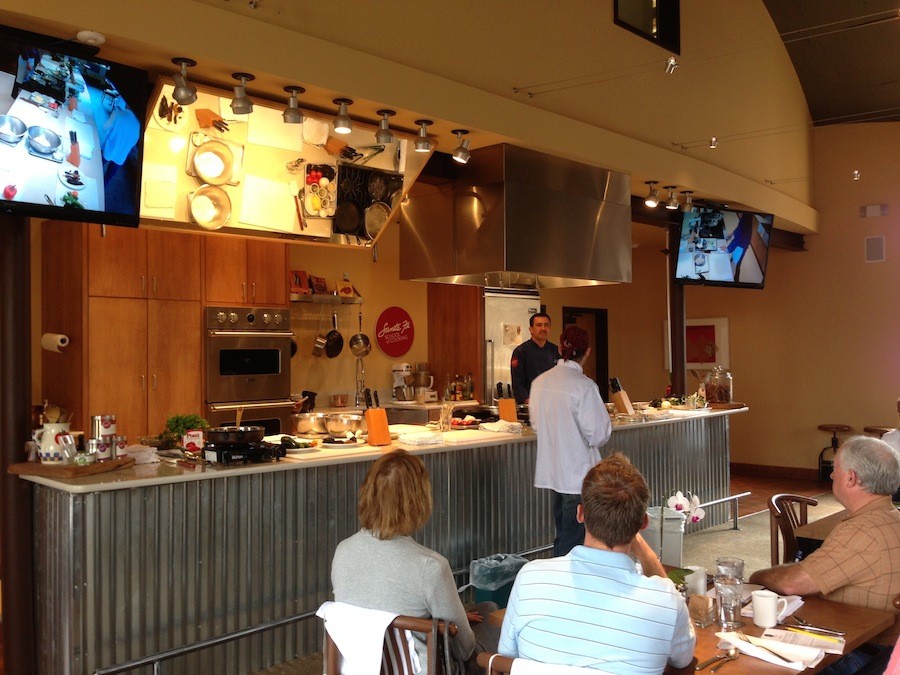 Santa Fe has a strong culinary identity that encompasses, Spanish, Mexican and Native American traditions. When you attend one of the classes, you'll learn a great deal behind the cultural mix that is truly distinct to the region.
The venue at SFSC almost makes you feel like you're on the set of a cooking show—large mirrors overhead provide different vantage points, with great lighting and ample space to work and interact with the chefs. After the chefs have presented the menu for the day, they invite students to don an apron and join them in the kitchen area where they guide students through the preparation methods. Then, it's all hands on deck—everyone gets an opportunity to participate in every aspect of the meal preparation.
On this day we were preparing gourmet tacos where the fillings included pork, chicken and shrimp. We even made homemade tortillas from blue and white corn. Once the meal was competed, all the taco ingredients where plated and lined up. We then removed our aprons, grabbed a plate and began feasting on the fruits of our labor.
The experience at the Santa Fe School of Cooking is one that skilled cooks, to the novice will enjoy. It's both education, and something fun and unique to do with your sweetheart.
At the entrance/exit of the SFSC is a lovely market at which you can purchase many of the ingredients and utensils used in the classes. If you've ever been to the Santa Fe School of Cooking, please leave a comment below and share your experience. And, perhaps a description of the meal you helped prepare.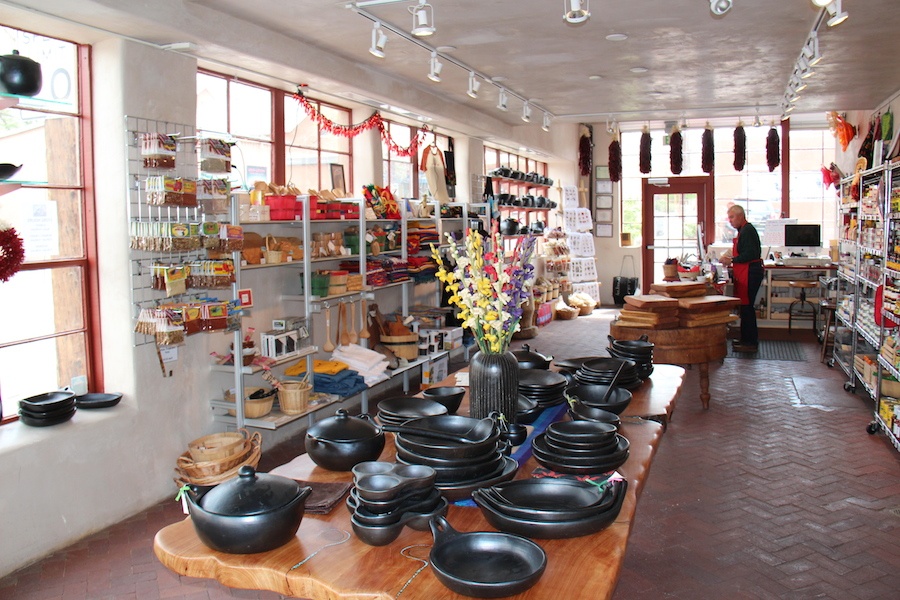 Santa Fe School of Cooking Contact Information:
Address: 125 N Guadalupe St – Santa Fe, NM 87501
Phone: 505-983-4511
Email: cookin@santafeschoolofcooking.com
Website: SantaFeSchoolofCooking.com

Hours: 9:30-5:00 Mon-Fri – 9:30-5:00-Sat – Noon-4:00-Sun
Prices: $75 to $98 per person