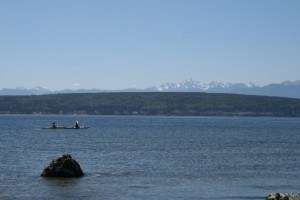 Hansville, WA is more of a bedroom community than anything else, however they do have a couple of great sites for the adventurous traveler.  Foul Weather Bluff Preserve is a gem of an excursion, however it can be hard to find. There is no signage whatsoever for this little stroll (not until you've already walked a couple hundred feet into the woods), so I've provided the GPS coordinates: (Latitude: 47° 55.559N – Longitude: 122° 36 .075W)
The Foul Weather Bluff area is a nice leisurely 15 minute stroll along a well beaten path through the woods.  Once you've reached the end you are greeted by a wonderful view of Hood Canal and expansive sandy beach that runs the coastline.  On the other side of the beach is the "preserve" area, which is a bit like a riparian, full of birds and other wildlife.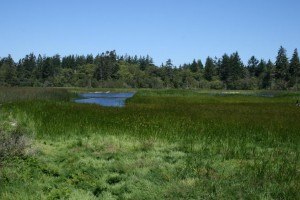 You'll notice in the pictures and the video below that the weather this particular day was not so "foul," so for those beautiful sunny days, consider bringing a picnic lunch, some chairs or a blanket and make an enjoyable afternoon of it.