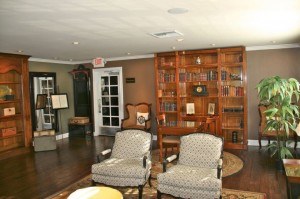 The Hadsten House Inn is located in the Danish themed community of Solvang, California, which is about 35 miles northeast of Santa Barbra.  As you approach the Hadsten House for the first time, you could easily misjudge it by its cover (exterior); but we all know how that can turn out.  I'll be the first to admit that I often judge things based on their outside appearances…for example, a restaurant with a bad sign, or a B&B with a website built in the 90s.  The Hadsten House Inn is the perfect example of why that's not a good idea.  Like the next American novel hidden within an unassuming jacket cover, this boutique hotel looks like a modest motel from the outside, but dive in and you'll find an urban chic oasis.  The lobby, rooms, spa to the restaurant all contradict its Danish modeled exterior.


Once you step inside the lobby…any modest misnomer is completely dispelled.  The lobby is warm and cozy with rich hardwood floors and French influences wrapped around a library/travel theme.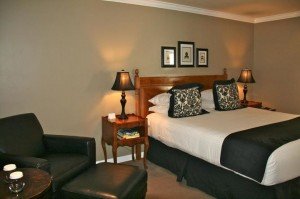 The accommodations are modern and sophisticated, with clean lines and comfort in mind.  There are five room types available, from the standard king or double queen, to the king spa or one-bedroom suite.  Each room is similarly decorated with quality designer furnishings and decorative fireplaces.  The beds are super cozy with luxurious high tread-count sheets and very comfortable pillows.
The restaurant has a lounge feel with plenty of chaise seating by the fireplace (the focal point of the space), where you can enjoy a glass of wine and intimate conversation. The food could be described as wine country cuisine. The portions are plentiful and nicely presented.  The dishes I tried during my stay included: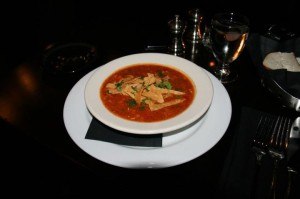 Southwest chicken tortilla soup, which was flavorful and spicy, but with a bit too much salt.
My entree included a fresh stuffed vegetable raviolo with spinach, roasted tomatoes, mushrooms, roasted garlic, onions, goat and parmesan cheeses top with a rich and delicious marinara sauce.
I also had a lovely glass of local wine.  The Santa Ynez Valley (where Solvang resides) is a big wine producing area.  As a matter of fact, much of the footage for the movie, "Sideways" was filmed here.   By the way, if you've never seen the film, it's quite good.
Each morning you'll enjoy a complimentary breakfast buffet that includes scrambled eggs,  thick and meaty bacon, fresh fruit, seasoned roasted potatoes, hot oats and coffee/juice.
As I enjoyed my meal, I noticed one of the General Managers, Trent, visiting with many of the guests (including myself), making them feel special and at home.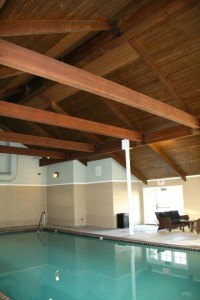 Be sure to bring your swimsuit!  There is a large indoor heated pool with beautiful tongue-and-grove wood vaulted ceilings to enjoy during your stay.  They also have a nice alcove area with whirlpool spa and plenty of seating nestled around two fireplaces.
I didn't get a chance to indulge, but I did notice that the Inn also has a full day spa offering services such as massage, mud wraps, manicures and facials.  They also have meeting space for conferences or business retreats.  During my visit, famed bicyclist, Lance Armstrong and his "Live Strong" crew were staying at the Inn using the meeting space.  I believe the crew was training in the area to see who would make the "Tour de France" team.
Located at the beginning of town, the Hadsten House is conveniently located within walking distance to shopping and restaurants, however that convenience does come at a price for those sensitive to road noise.  Solvang is a popular destination and traffic can be heavy at times.  While the road noise was quite apparent outside, I was pleasantly surprised by the quality of insulation once nestled in my room.  I would however recommend bringing earplugs for those more sensitive.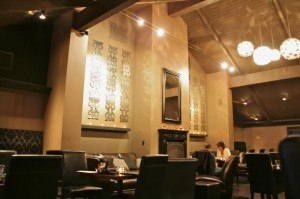 Solvang and the surrounding Santa Ynez Valley is quite spectacular.  With the rolling hills, windy roads, great restaurants, shopping, to world-class wineries…there's a plethora of things to do for just about anyone interested in exploring an area a bit off the beaten path.
Click the following link to see more of my pictures of the Hadsten House Inn.  If you've ever stayed at the Hadsten House, please post a comment below and let my readers and me know what you thought.
Contact information for the Hadsten House—Inn | Spa | Restaurant:
1450 Mission Drive
Solvang, CA California, 93463
http://www.HadstenHouse.com
info@HadstenHouse.com
(800) 457-5373
Tags: Hadsten House, Hadsten House Inn, Hadsten House video, Pictures of Hadsten House Inn, Solvang, Solvang Hotels, Solvang Inns, Solvang Lodging