DAY THREE:
Breakfast on this morning included eggs any style with ham, melon, juice, coffee and English muffins.  Yesterday I spent the afternoon on the river in an inflatable kayak (a duckie), which was a lot of fun and more active than being in a raft, especially through the class III rapids.  Today I would hit the river first thing in a kayak.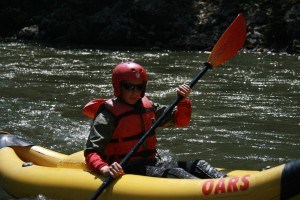 After a couple hours of kayaking, we pulled off to do a short hike to an area called "Old Eakin Cabin Site," which is now managed by the forest service.  This area was inhabited many years ago by a gentleman who built a cabin and planted an orchard of fruit trees, but has long since passed.  With no heirs, the property was turned over to the Forest Service.  The trees on the property actually still bear fruit…during our stop we enjoy a bounty of cherries that were in season.  There was also clear evidence that bears were also enjoying the bounty of fruit.  After our bellies were full we headed back to the rafts and kayaks and continued downstream.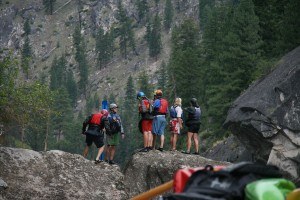 Since the river is always changing due to varying water levels, the guides would occasionally pull over (into an eddie) to observe various rapids and decide on a line to take.  I had taken great pride in the fact that I had yet to "go swimming," a term used for those who fall out of boats.  We were coming up to one of the bigger rapids on this stretch of the river, "Five and a half mile" I believe it was called…it's a two-part rapid with a small break in between the second part.  This rapid was long and a serious Class III, maybe even a 3.5. My heart was pumping as I approached, some of the waves it was creating must have been 8-10' feet high, which I judged by using our lead Dorrie boat as a measuring stick as it went through and looked nearly vertical at times.  I made it about three quarters of the way through the first set up rapids and was thinking I was nearly home free, when all of a sudden, a side wave crashed atop my boat and jarred me to one side, as I was trying to gain my balance by taking a strong paddle stroke, I caught air instead of water, which caused my boat to go further awry, thus throwing me into the frigid and turbulent waters.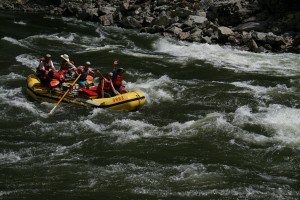 You're taught to try and hold onto your paddle, which I did, and then swim to your boat and try and get back in…however in this case, my boat was so far from me that all I could do was let the rapid take me down stream where a rescue boat would retrieve me.  Once in the raft, I couldn't believe how out of breath I was…it took several minutes before I would resume normal breathing.  In the meantime, as we made our way to the side of the river into an eddie, we waited for a lagging raft to procure my kayak so that I could continue.  However, as it was, my kayak was sucked into a significant boyle which caused my kayak to spin in successive circles.   The guide from the lagging raft was unable to retrieve my kayak and thankfully a fellow kayaker from another company was able to paddle into the boyle and retrieve it for our guide to bring it downstream for me.  Needless to say, it was an exciting day on the river.
O.A.R.S., like the other rafting companies, try and secure camp sites during each of their trips, but since there are a limited number of sites that are "registerable," a couple of the days on our trip we had to just seek out sites that were first-come-first-serve…on this particular day we had a tough time finding a site large enough to accommodate our group.  We ended up running 30 river miles; about 7-8 more than planned—needless to say, we were all tuckered and ready to relax at camp.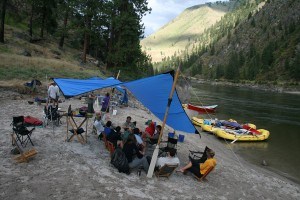 Soon after finding and setting up camp, we were once again enjoying a fabulous dinner prepared by the guides…this evening we indulged on pork tenderloin, pasta and a freshly baked red velvet cake for dessert.  Each day it amazed me how the crew was able to store and prepare such quality meals—maybe not restaurant gourmet, but certainly gourmet for camping standards.
This evening we enjoyed the soulful tunes from our talented guitar playing and singing guide, Chris.
Everyone was really tired from the extra long day and so most were in bed before darkness could envelope the evening.
Click "Day Four" to continue reading about my Salmon River rafting trip with the folks from O.A.R.S. Click the following link to see more pictures of Salmon River. To start from the beginning, click here.
Tags: Kayaking the Salmon River, Rafting Trips with OARS, Salmon River Rafting