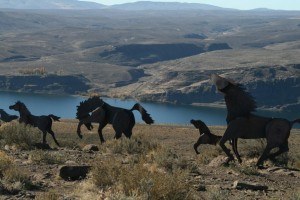 This horse sculpture display was created by artist, David Govedare and is located right in the middle of Washington state.  The display can be seen from viewpoints along I-90 on the east side of the Columbia River…the best "vantage" point is about two miles east of the Vantage Bridge across the Columbia River. The eastbound off-ramp has a rough path that leads a quarter mile to the Wild Horses Monument.
Once you reach the overlook parking lot, you'll enjoy views below of the Columbia River and the Vantage Bridge…as well as the views above of the wild horse sculpture display. If you so choose, like I did, you can hike up to the top of the bluff to walk among the horses.  You'll be amazed at how big the display is, and how thick the steel is…this display was built to last!  Unfortunately some feel the need to tag these sculptures with paint, so I'm sure it's a continual battle to keep them clean for all to enjoy.

.
Click here
to see more pictures of the Horse sculpture Display at the Vantage Bridge Overlook.