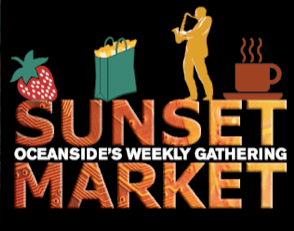 I have been to a number of evening markets around the world, from Asia to Europe (the one in Bangkok is amazing).  The public market concept is a cultural gathering that dates back to the beginning of time.  With fresh food, artisans and live music, what's not to enjoy.  I haven't run into many night markets in the U.S., but have to say the one in Oceanside, California is quite good.
When: Every Thursday evening between 5 and 9pm.
Where: Downtown Oceanside, California, in north county San Diego.
What: The Sunset Market offers a plethora of arts, crafts, ethnic foods to whet your taste buds, along with some fantastic street musicians and performers.


Click the following link for more information on the Oceanside Sunset Market. For a list of things to do in San Diego, check out my "ONE thing San Diego" post and video.  Click the following link to see pictures from San Diego.