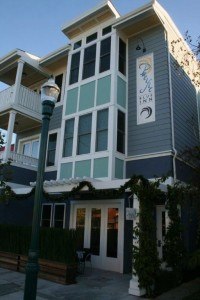 While in Santa Cruz, California, I stayed at an eco-friendly, urban chic bed and breakfast called the Pacific Blue Inn.  The Pacific Blue Inn is located within walking distance of many of the area's famed attractions, such as the Santa Cruz Boardwalk, the Waterfront Wharf Pier and downtown…which is full of wonderful art galleries, restaurants, museums, music venues and other activities.  Michael (owner/proprietor) and Alex (Innkeeper/chef) are friendly, eager and quite knowledgeable on the area and are great resources for restaurant suggestions or area activities. If you don't feel like walking or dealing with parking, the Inn has complimentary bikes available for use.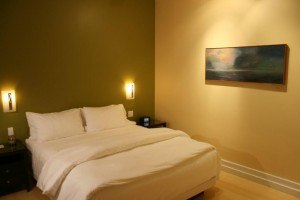 There are nine rooms (three stories) at the Pacific Blue Inn, each with a modern European flair—simple in design with clean lines.  The flooring is bamboo, while the bathrooms are tile.  The king size pillow-top beds are most comfortable with Egyptian cotton sheets and hypoallergenic alternative down comforter and pillows.  Typically I prefer real down, but I have to say, the pillows and comforter were nearly indistinguishable…very cozy and comfy.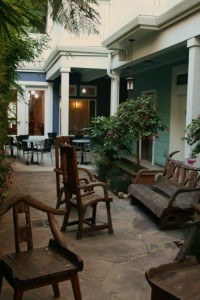 Each room has your typical amenities, e.g. iron, hair dryer, etc., but they also have iPod alarm clocks, which I really appreciate.   Each room also has an electric fireplace for ambiance and original local artwork adorning the walls (some from the talented innkeeper/manager and chef, Alex).  The bathrooms are modern with bright colors, a large pedestal sink and floor-to-ceiling tile shower, which has no ledge, making them handicapped accessible.  Along with a 37" flat-screen TV, there are DVD players in the rooms, however I must have missed the DVD library.
There is a small but charming courtyard for guests to enjoy, which includes a gas fire-pit, water feature and plenty of seating…including some hand carved wooden chairs and benches.
As for breakfast…you don't want to miss it!  Breakfast at Pacific Blue Inn is simply delicious, and hearty (Alex is a great cook!).  First, it's the perfectly brewed cup of gourmet coffee, and then you're presented with a serving of epicurean fruit.  Next up, the famed Pacific Blue "popover—"which to tell you the truth, I was not familiar with (apparently one of the few people in the world who've never enjoyed a popover!).  If you're not acquainted with popovers, they're a cross between a doughnut and a muffin…light and flaky.  Presented with three spreads, the popover makes for the perfect complement to a good cup of coffee. The main course is served a bit differently…it's made-to-order—from a series of omelets; a frittata to a number of griddle dishes…there's something for everyone.  Each breakfast course is served on sleek, modern dishes and flatware that perfectly enhance the presentation.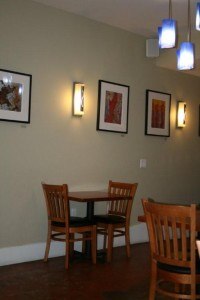 It's worth noting that the Pacific Blue Inn is in an urban area. Some might find the neighborhood slightly sketchy, while others will embrace the setting with all its surrounding culture and amenities.   Additionally, because of the Inn's location, it may not quite feel like a B&B to some—it's important to note that all Bed and Breakfasts are different… each is unique and special in its own way. Being in an urban setting makes the Pacific Blue Inn very convenient to many area attractions, however land costs and use restrictions may have posed development challenges—I believe the Pacific Blue Inn has struck a nice balance in providing quality accommodations in an urban setting.
Suggestion: When staying at the Pacific Blue Inn, I might recommend requesting a third floor room if one is available.  Since all the rooms have hard floor surfaces, people walking with heels above you could be a bit disturbing. Additionally, if people are utilizing the courtyard, the sounds are more pronounced on the lower level.
To see some of my additional pictures of the Pacific Blue Inn, click here. If you've stayed at the Inn, please let my readers and me know what you think. For more information or to make reservations at the Pacific Blue Inn Bed and Breakfast in Santa Cruz, California, click here to visit their website.
For a list of other B&B's in the area, check out: B&B's in Awahnee CA, Awahnee California Bed and Breakfast, B&B's, Healdsburg California or California B&B Inns, Healdsburg