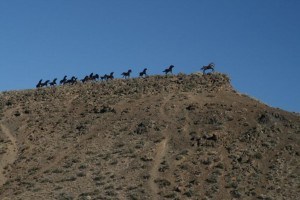 As I was driving east on I-90 today, I decided to stop at a scenic view point just past the Columbia River "Vantage" Bridge—I'm so glad I did, as I was treated to an amazing art display high above…on a bluff overlooking the river below.  The series of horse sculptures was created by artist, David Govedare.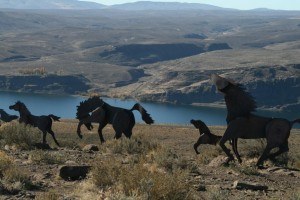 The artwork can be seen from viewpoints along I-90…the best is about two miles east of the Vantage Bridge over the Columbia River. The eastbound off-ramp has a rough path that leads a quarter mile to the wild-horse monument.
Click here
to see more pictures of the Horse sculpture Display at the Vantage Bridge Overlook. Click the following link for
Washington B&B's
.
Tags: Artist David Govedare, David Govedare Horse Sculpture, Horse Sculpture Display at Vantage Bridge, Vantage Bridge Horse Sculpture, Vantage Bridge Scenic Overlook